Accomplishments
ANTICIPATED PROJECTS – 2017
Planning for Education, Health, and Infrastructure – In January 2016, IHA volunteers visited two islands, Kava and Zinza, in Lake Victoria.  Discussions were held with community members on both islands.  Key challenges voiced by the communities included a lack of medicine and education for their children.  The HIV infection rate was reported at 45 percent on Kava.  Residents on Zinza reported a recent outbreak of cholera.  A particularly troublesome problem for both islands is disposing of human waste.
PREVIOUS ACCOMPLISHMENTS
PROJECTS – 2016

Glasses – Distributed glasses that were donated by Utah residents and eye doctors.
Clean Water
Microloans
Environmental Conservation – The Islamic University in Uganda (IUIU) donated 10 acres of land for an Innovation Laboratory, where engineering students will experiment with and develop industries that can draw on local sustainable resources, such as manufacturing soap from banana peel oil, and manufacturing laminate bamboo as an alternative to hardwood.  The methods for these industries will be provided to local groups in conjunction with microloans from IHA.
Solar Energy Project – Installed solar power at the Dricile Health Center, a clinic in the West Nile region.  Assessed a second clinic in the area for solar installation in 2017.
PROJECTS – 2015
Solar Energy Project – Solar power was installed in the Pres Primary School in southeastern Uganda.  The school serves about 200 children including Batwa pygmy children whom IHA has committed to help.
IHA personnel visited the Menya School in Iganga district. The director had attempted, for one and a half years, to get volunteers to visit.  After visiting, experiencing the director's dedication, and seeing the needs of the children, IHA plans to assist the school.
Clean Water – IHA signed a 5-year collaborative agreement with Engineers Without Borders Salt Lake Professional Branch to introduce low-cost methods to drill wells. As a direct outgrowth of their participation, communities are mobilizing their resources to do the basic labor of drilling wells while IHA and its supporters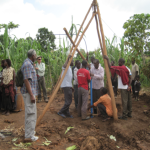 provide funds to finish.  This has reduced the cost of a well to approximately $500.
Collaboration with IUIU – In June 2015, IHA signed a Memorandum of Agreement with the Islamic University in Uganda (IUIU) to jointly establish an Innovation Laboratory and to collaborate on projects in the West Nile region.  Senior IUIU personnel hosted IHA volunteers for five days in the area. Solar power was installed in two rural schools, eyeglasses were distributed and sewing machines provided to an existing group.
PROJECTS – 2014

Microloans – Five women's associations, approximately 60 women on Bussi Island Paid off their initial loans. Three new groups, two women and one men's group have applied for loans. Two loans were paid off & one new loan was made in in the Iganga District. The current repayment rate remains at 100% 29 groups (approx. 400 members).
Solar Power – IHA has continued its solar power project for lighting & education. Solar power and 2 laptops were installed in God's Grace School (GGS) new classroom. IHA also installed solar power at the Kwapa Primary School and the Amonikakinyi Primary School, Tororo District. As used laptops are received they will be installed in these and other schools.
Family Planning – The women in many rural communities are very interested in reducing their rate of pregnancies but lack access to knowledge, services and products. In many cases, they also don't have access to feminine hygiene items. Moon Beads, a very basic family planning method, was presented and reusable hygiene kits distributed in several villages.
Sewing Project – Manual sewing machines, donated by Sew Much Hope, Salt Lake City, UT, were distributed to Kyosimba Womens Groups, Masaka District and the Kayoro Womens Group, Tororo District. The machines empower the women to start small business and sew hygiene kits for themselves. School age children are also taught sewing skills.
Environmental Project – In 2013, IHA volunteers met with members of the Kyosimba community and discussed environmental issues. In May 2013, the community registered the Buyaga Environment Conservation & Forest Keepers Association. This year they were accepted into the National Collaborative Forest Management Program. In return for helping to curb illegal timber cutting, the association has been granted the right to grow certain crops and conduct bee keeping in the Mujuze Central Forest Reserve.
Eyeglasses Project – The price of eye glasses are out of reach for most individuals living in rural areas, especially older people. IHA has an active vision project and routinely takes donated glasses on its humanitarian trips. Eye testing is done the old fashioned way with hand-held charts. Some 3000 pairs of glasses have been distributed to communities over a four year period.
PROJECTS – 2013

Microloans – New loans were made to six womens' associations, approximately 70 women, on Bussi Island,  Several of the groups have already started repaying their loans.  One new loan was made in the Iganga District.  The current replayment rate remains at 100% with 27 groups (approx 300 members)
Solar Power and Education – Seee and IHA installed solar power for lighting at the boys' and girls' dormitory, Good Day Orphans School (GDOS)., Bussi Island.  IHA installed solar power at Kabuko Primary School., Nawansega Village.  Twelve panels, 2 batteries and charge controllers were donated to a Ugandan church diocese for installation at 2 schools in southwestern Uganda and nine panels were donated to SEEE for lighting projects in northern Uganda.
Environmental Project – During the spring 2013 trip, IHA volunteers met with 15 community members at God's Grace School and discussed a project in which families would plant five trees periodically when they collect firewood.  Two weeks later, some 60 community members met with a Uganda forest ranger to discuss the project.  The "forest Keepers Association" is now formalized.
Conservation Program – IHA continues to work with communities adjacent to the Mujuzi Central Forest Reserve in the Masaka District.  With funds from a small SeaWorld & Busch Gardens grant, 30 more fuel efficient stoves were distributed and 15 solar cookers built.  A fuel efficient stove at God's Grace School was also constructed with grant funds.
PROJECTS – 2012
Health – IHA visited Good Day Orphans School on Bussi Island, Lake Victoria.  The team inspected the current source of water and made plans to provide a clean source of water, which was later completed in 2013.  Reusable hygiene kits were provided to age-appropriate girls.  Close to 60 pairs of eye glasses were distributed to community members during vision tests.
Microloans – Women use the profits from their loans to start small businesses, make smaller loans among themselves, and purchase supplies.  In the Masaka District, women decided to lease farm land and grow crops for the local school.  This is a significant step forward; the women who have benefited are now volunteering to provide service to their community.  Five womens' groups in the Masaka District repaid their loans and received new loans.  Loans were made to two new groups.  In Iganga District, five groups in the Naonsega Village area started repaying their loans and one loan at Namufuma Village was renewed.  Two loans in the Tororo District were renewed.  The 2012 repayment rate continued at 100%.  The total of groups was 17, with approximately 230 members.
Environmental Conservation –
Fuel-Efficient Stoves – Approsimately 135 fuel-efficient stoves were distributed to microloan association members who had repaid their loans. The stoves reduce the consumption of firewood by approximately 50% and also reduce harmful combustion.
Solar Cooker Trial – IHA volunteers built a solar cooker and demonstrated it to the women in Kyosimba Village. This initial demonstration was followed by a visit by our microloan manager to encourage its use. IHA is working to reduce consumption of firewood by 75% in participating communities by exploring and promoting sustainable cooking methods.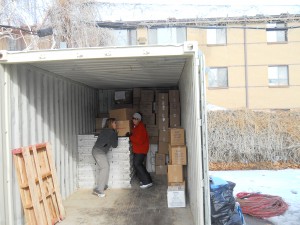 PROJECTS – 2011

In-kind donations – In January of 2011, IHA board personnel and community volunteers loaded 1200+ pounds of humanitarian goods in a 20-foot container and shipped it to Uganda.  The material, collected over a three-year period by a number of non-profit organizations, included text books, 400 boxes of freeze-dried food, a variety of tools, and solar panels.
Brick Making Machine – IHA purchased a manual brick making machine for construction projects.  The bricks are made by mixing a small amount of cement with dirt and sand, and compressing the dampened mixture.  The bricks are air-dried, which eliminates the need for scarce wood resources typically used in the drying process.  The mold enables the bricks to fit together like Legos, minimizing the use of mortar.  Work began in 2011 on a classroom for God's Grace School.  The building was completed in 2013.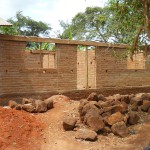 SUMMER 2010 HUMANITARIAN MISSION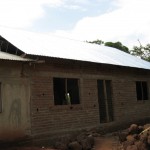 Orphanage Addition –  IHA funded  a 25 X 35 ft.  addition to Hope Childrens  Center, Iganga district.  This addition doubled the size of the orphanage.
Public Health Seminars – IHA conducted public health seminars with approximately 170 women  across six communities.  Topics included Aids challenges, family planning, and micro loans.
SUMMER 2009 HUMANITARIAN MISSION
During the summer of 2009 IHA, in conjunction with several other organizations and community volunteers, conducted a joint humanitarian mission to Uganda. During a three and a half week visit the teams accomplished the following projects: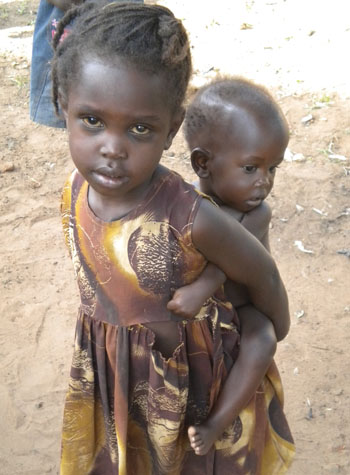 Phase 2, Girls Dormitory– Added a 35-foot by 25-foot building to increase space for a girl's dormitory at Byana Mary Hill Orphanage. Concrete pathways, patio, and steps were constructed for improved access (to avoid mud during the rainy season).
Women's Health Seminars – Conducted public health seminars at seven communities involving over 900 women. The seminars covered a variety of health, hygiene, and reproductive issues. Topics included HIV and sex, menopause, breast feeding (including HIV positive women), infant and child nutrition, and drinking water. They also included women's fertility cycle and making reusable hygiene kits (sample kits were provided).
Children's Health Seminars – Provided public health seminars to over 600 children. Seminars covered the importance of hand washing and dental hygiene. The seminars were conducted in conjunction with the women's health seminars.
Eye Glass Project – Eye testing was conducted for approximately 1000 individuals and approximately  800 pairs of glasses were distributed.
Sewing Machine Project – Provided manual sewing machines to three women's groups and left funds for the purchase of two more. In return, the women agreed to help sew uniforms for schools and orphanages in their area and make hygiene kits.
Solar Energy Project – Provided 250 individuals with information on the use of solar energy for cooking and preservation of fruits and vegetables. Constructed two solar dryers and provided funds to several orphanages and schools for construction of four more.
Medications – Funded the purchase of medication to two orphanages.
Small Business Seminars – Presented concepts for small businesses to several women's groups comprising about 450 women. Made plans to create a revolving loan fund to foster women-owned small businesses. It is hoped that money can be raised in the future to finance the fund.
Computer Donations – Donated laptop computers to two orphanages and one vocational school. The computers donated to the orphanages were equipped with math, reading and spelling software covering several grade levels.
ACCOMPLISHMENTS – 2008

Computer Donations –
Donated laptop computers and books to the Uganda Martyrs Orphans Project.
Donated computers to a school in San Salvador, an orphanage in Kenya, and refugee families in Salt Lake City, Utah.
Also donated a computer to the OFFUGO Educational and Cultural Trust Orphanage in India.
Food and Medications –
Donated funds to the Hope Children Center in Uganda to purchase food and medicine.  Donated funds to the Byana Mary Hill Orphanage in Uganda for medical supplies.